India as a country enjoys a rich spiritual heritage. It is therefore only fitting that the Bahá'í Faith, which among other things claims to be the culmination of man's collective life on this planet, should have from its very inception a representation from this glorious nation. Sayyid-i-Hind, a Letter of the Living, was one of the first eighteen persons who believed in the Bab (the Forerunner of Bahá'u'lláh and an independent Prophet in His own right). Sayyid-i-Hind set out from Shiraz for India but unfortunately no historical record of His journeys is available to us.
During the ministry of the Bab, small communities sprang up in villages and towns of India. No doubt some of the early believers must have made the arduous journey to Iran and been directly or indirectly influenced. Bombay, (now Mumbai), Hyderabad, Jaunapur , Rampur and Palampur were some of the places where the earliest believers resided. Mumbai was the place where the relatives of the Bab, the Afnans, had business and so it became a centre. A printing press (Nasiri) was established and the Writings of Baha'u'llah were first printed here.
In 1872 Bahá'u'lláh sent Sulayman Khan commonly known as Jamal Effendi to India. He traveled the length and breadth of the country over a number of years, along with a handful of enthusiastic teachers. meeting with people of all communities', social status, castes and religious beliefs. It was through Jamal Effendi's heroic efforts that a coherent though widely scattered Bahá'i community came into existence.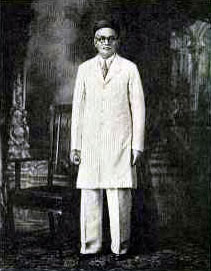 First Bahá'í from Hindu Background
Narayenrao Rangnath Shethji was the first Bahá'í from the Hindu background. Better known as Vakil, he was born in a well-known Hindu family in Nawsari. He became a Bahá'í in 1909. Mr. Vakil became did his law from the Bombay University in 1911. He was an advocate of the Bombay High Court and one of the senior-most lawyers of Surat.
The most important event in his life was his pilgrimage to the Holy Land where he met the Master, 'Abdu'l-Bahá, who said to Vakil "You will be eternally confirmed." He was elected Chairman of the National Spiritual Assembly of the Bahá'ís of India and Burma in 1923. He always set aside a portion of his income for the Cause and helped to deepen the understanding of his fellow believers on giving the Message to all. He passed away on 2nd May 1943.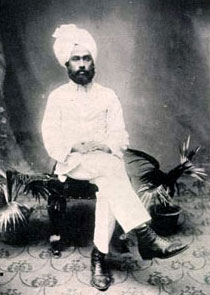 First Bahá'í from Sikh Background
Professor Pritam Singh was the first member of the Sikh community in India to accept the Bahá'í Faith and the first to publish a Bahá'í weekly magazine in India. He was born on November 16th, 1881 in Punjab. Prof. Pritam Singh obtained his B. A. degree in History, Economics and Political Science with distinction.
He received the Message of Bahá'u'lláh from Mirzá Mahmud Zarqani soon after his graduation in 1904. He undertook teaching trips alone, and also with Ms Martha Root and Dr. G. Y. Chitnis. He resigned from his profession to work for the Cause of God. He had simple habits. During the last years of his life he pioneered to Amritsar where there were no other Bahá'ís at that time. He was one of the earliest Secretaries of the National Spiritual Assembly of India and Burma. He passed away peacefully in his sleep on August 25th, 1959.